The Keeper Of Amnesiac Memories
Krupa Makhija sifts through memories of conflict to document her history.
The search for peace
has led us to a graveyard
wherein lie buried deep
the feathers of white pigeons
The part of land
I had grown on and thrived
centuries ago,
has been usurped by the Devils
for building their idgahs and goshalas
The protectors of the forests
uprooted the banyan tree
and planted its limbs
in the flower pots.

Poet Hari Kant
Symbolism in Sindhi poetry has deep roots. Poets have waxed eloquent on the tribulations of partition. Poet Hari Kant's verses enrage over the loss of his beloved land.
Our torn sky
I will stitch it myself.
For my roots to grow
Give us back my land.
It is the Sindh of their ancestors that was lost instantaneously. Leaving behind an Indian community without a homeland. A birthplace left behind amidst bitter memories. Krupa Makhija's work soaks in the memories of these stories which has travelled down generations to inform her artistic approach. Symbolism roots this 'outsider' identity wrapped in the materiality of the urban landscape she occupies today.
TITLE: Map of lost language – II
IMAGE COURTESY: Artdistrict13 Gallery, New Delhi
VIEW IMAGE FOR DETAILS
---
She meticulously uses objects as forms, and like the poets of her yore who felt the strains of their history, she uses them as metaphors, as characters of this second story. The main story being tales that lived with the first survivors. This second narrative is filled with the echoes of its interpretations. Like Atlas who held the heaven on his shoulders, the stories of her ancestry sit on her shoulders and change her view of the present. They are important connections between the past and the future. They need each other, but the questions of where the present fits in remain unsettlingly still. In her acclaimed work An Amnesiacs Memory, she sifts through memories retold, collages complex stories of conflict, all in a dialect of her own.
TITLE: Witnesses – II
IMAGE COURTESY: Artdistrict13 Gallery, New Delhi
VIEW IMAGE FOR DETAILS
---
This new nation, with its unravelling urban aspirations of discarded memories and shifting ideologies, becomes the tableau of her oeuvre. The complexities of a lost identity with conflicts of the new, create a fuming mirage of oneness. They encroach on each other to curate a unique narrative. Within this milieu, her work lives in a siege.
TITLE: Witnesses – I
IMAGE COURTESY: Artdistrict13 Gallery, New Delhi
VIEW IMAGE FOR DETAILS
---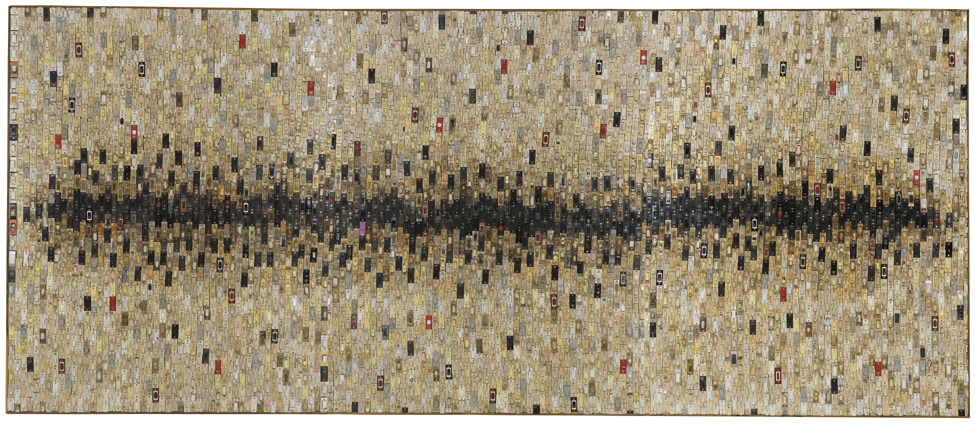 Makhija's art sharpens the blur between the boundaries to etch out a clearer voice. It is not a voice of solutions or peace or anger, it is a voice of the status quo of emotions. Like a poet-writer, she uses the faded language of her culture to conjure visions of this migration. A migration that changed the DNA of their regional ethnicity. In all this, Makhija's art becomes her homeland from where she carves her reality.
TITLE: Sindh – Hind
IMAGE COURTESY: Artdistrict13 Gallery, New Delhi
VIEW IMAGE FOR DETAILS
---
TITLE: After Amnesia
IMAGE COURTESY: Artdistrict13 Gallery, New Delhi
VIEW IMAGE FOR DETAILS
---