Reena Saini Kallat : Earth Families
Every artist draws inspiration from the realities that surround them. Reena Kallat has taken hers right from the seed of the apple that stripped the world of its saccharine sweetness and shaded it a deep grey. 'Earth Families', in the close suit of her 'Hyphenated Lives' series, is a Tolkien-esque ride. It's sewn messages more poignant today than ever. Dissecting this series of exhibits becomes a personal exploration, a time travel across continents, mythologies with pincers through timelines when history stood guard to butchered dreams. From the Middle East to the embers of hate closer to home, this exhibit gives us a big what if? Like a love child still standing post a brutal separation, the series unspools both tales and wisdom in equal measure. In many ways, hidden in layers of meticulously woven textures of thread, wire, net, paper and more, lies an indirect hope for utopia. Reena states "I felt the need to turn to species other than the human race to tell us how to cohabit the planet, where the existence of one depends on the other or the disappearance of one species affects the other adversely,".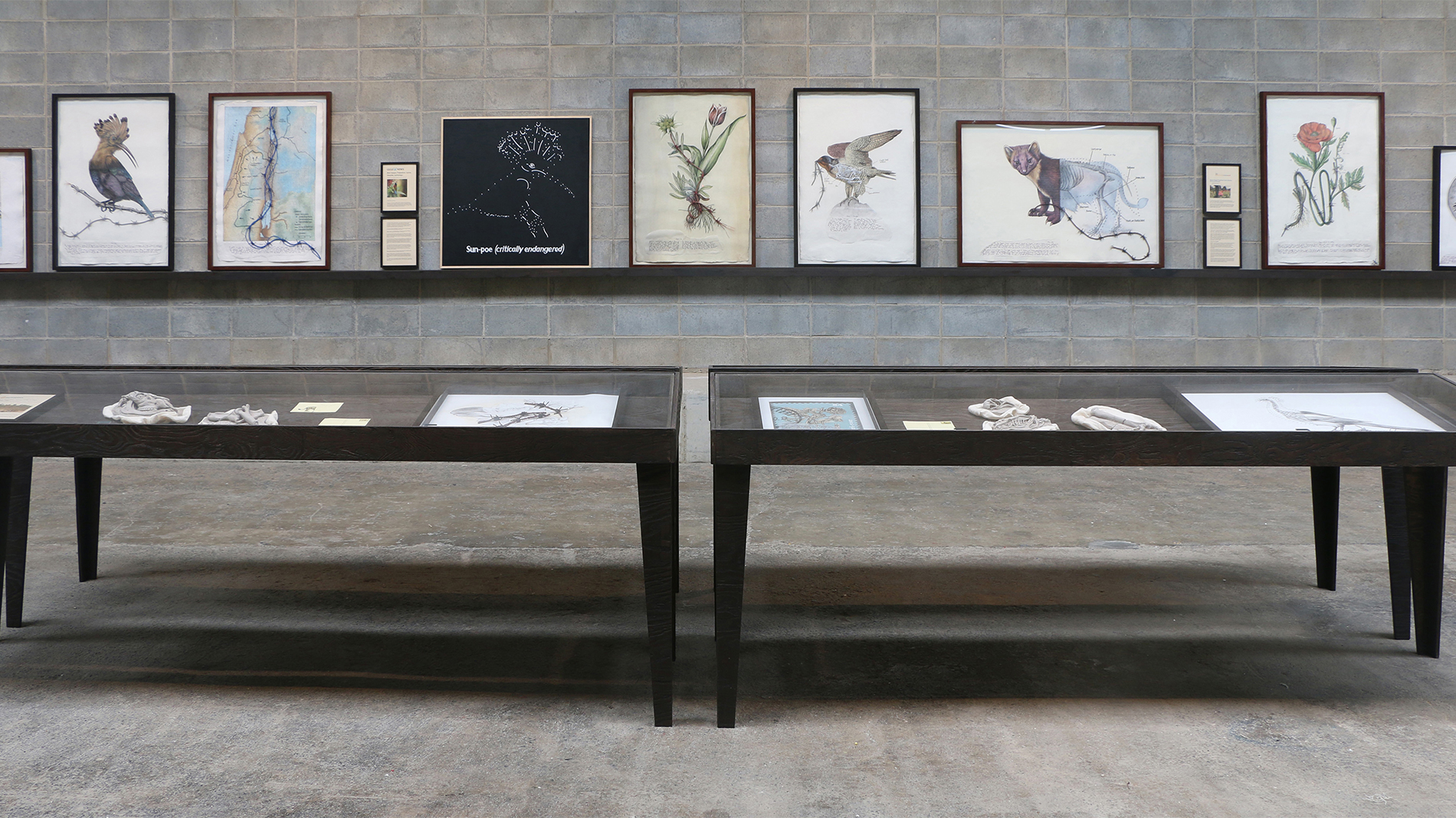 I often think of this conjoined form as an allusion to nature's defiance of the artificially imposed, man-made divisions on the ground, as a poetic provocation from the past or a proposition for an imagined future where indeed they may reunite.

Reena Saini Kallat
In the garb of mutant manifestations and a catatonic imagination of a world dotted with anomalies (beautiful, visceral anomalies) it is here that one stands to think past the big what if to the big now what? With the recurring wire sitting on each frame like a flag of reality the narrative is evocative. She reels us in like a child lured in with mesmerising illustrations and join-the-dots diagrams. We step into this minefield of a troubled world patched with otherworldly hope.
Reena Saini Kallat's solo exhibition at the Manchester Museum titled Earth Families interacts with the museum's rich and varied assembly of natural sciences and the human cultures collection, animating it with new meanings.
Hyphenated Lives
In the suite of works titled Hyphenated Lives, new hybridised species of birds and animals, trees and flowers otherwise foregrounded as national symbols and proclaimed by nations as their own, get combined, symbolically unifying the otherwise conflicted nations they represent
---
TITLE: Hyphenated lives (Ti-khor)
MEDIUM: MEDIUM DETAILS
YEAR: 2017
IMAGE COURTESY: ARTIST
---
HALF OXYGEN
---
TITLE: HALF OXYGEN
MEDIUM: MEDIUM DETAILS
YEAR: 2017
IMAGE COURTESY: ARTIST
---
TITLE: Hyphenated lives (Cy-oak)
MEDIUM: MEDIUM DETAILS
YEAR: 2017
IMAGE COURTESY: ARTIST
---
TITLE: Hyphenated lives (Sun-poe)
MEDIUM: MEDIUM DETAILS
YEAR: 2017
IMAGE COURTESY: ARTIST
---
Her practice spanning drawing, photography, sculpture and video engages diverse materials, imbued with conceptual underpinnings. She is interested in the role that memory plays, in not only what we choose to remember but also how we think of the past.
In this exhibit
You'll find trees with one half growing into the Oak while the other into the Palm, the national trees of US and Cuba or conjoined birds, such as the Hoopoe, national bird of Israel with the Palestinian Sunbird, animals and flowers from India/Pakistan, Ireland/UK, Israel/Palestine, North and South Korea, Macedonia/Serbia, Austria/Hungary, US/Mexico or US/Cuba.