The Artsmith Of Words
Youdhisthir Maharjan focuses on text as form to contour his art.
The strength of words, the conscience of a story or the depth of a book, all hold powers beyond our understanding. They have the potency to shatter mind-sets, shape worldviews, rule life. Their visceral journey between writer, poet, linguist, calligrapher is often interspersed by artists. They have used words as a tool to grasp ideas and shape their art.
TITLE: Without a Map
MEDIUM: Acrylic on reclaimed book page
DIMENSIONS: 8.5 x 13.5 inches
YEAR: 2016
IMAGE COURTESY: TARQ
---
Youdhisthir Maharjan's work use text as form. He writes, "I work with reclaimed text, altering them to create a new language that transcends its humble origin and takes a new life of its own, independent of its prescribed meaning and form. My interest lies in the material specificity of text and reasserting the thingness of language, freeing language from its enslavement to meaning, opening it up to new possibilities. I take part in a linguistic play, exploring and exploiting text at a molecular level where the smallest change can cause enough poetic friction to start a new life."
His work feels like a poetic science experiment on text. He washes off prose and paints its meaning on top. He inks a hypnotic-kaleidoscopic-map of constellations unknown. And in the midst of its making, there is a meditative rhythm. The artist adds, "It is laborious and repetitive with no definitive end. The meditative and ritualistic power of repetition allows me to experience the making of each mark without worrying about the finished work, where movement is not measured by distance travelled, but by the change in state of mind. Each mark is an opportunity to go deeper and discover what can be experienced, learned, and expressed as I surrender to the material and the process".
TITLE: Where the Heart Is
MEDIUM: Acrylic on reclaimed book page
DIMENSIONS: 8 x 5.25 inches
YEAR: 2015
IMAGE COURTESY: TARQ
---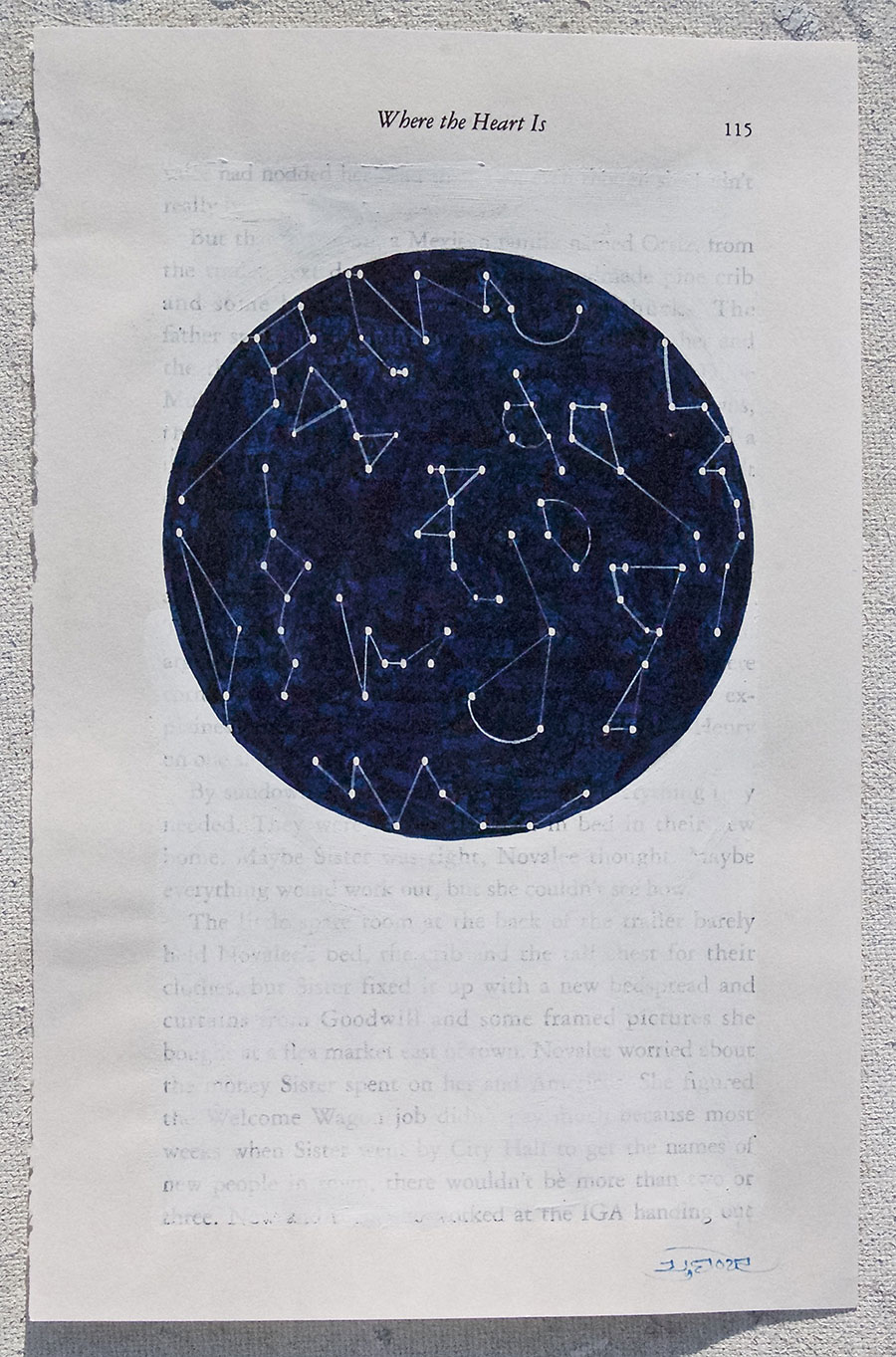 He carefully, indulgently cuts off words leaving an empty grave of verses and isolates a single word of being "is". Around it, all words gravitate, they stand in formations, in an assembly of cacophonous balance. The artist describes his work as, "Texts from reclaimed books are erased, scraped off, and cut out individually, and pages braided and weaved with repetitive acts of the body, adding a new mark of unmaking/remaking—rewriting. The act of writing and reading becomes a performance. Ritual. Meditation. Prayer."
TITLE: Love is the Answer
MEDIUM: Reclaimed text cutout collage
DIMENSIONS: 8 x 5.25 inches
YEAR: 2016
IMAGE COURTESY: TARQ
---
"I seek to erase the distinction between writing, reading, and drawing, stripping it of meaning and context, so that it is charged with other values that oscillate between understanding and incomprehension. A writing/drawing, purified of sense, that gives voice to the silence. A writing/drawing not meant to inform, not linked to knowledge, but to being—inviting meditation not through the weight of analytical reason but through the levity of intuitive insight. Distillation of time and obliteration of information. The act of information retrieval becomes a journey to the unknown destination", Youdhisthir concludes.